I'm new to the whole blogging thing so I was a little unsure about participating in this
Mixology Monday
business, but I've really enjoyed reading the roundups from past (and have been a
lurker
on many websites until recently), so I figured I'd contribute. So, new blog, new drink. This drink, the Dark n' Stormy Daiquiri, is a riff on the classic Dark n' Stormy which is made with Goslings Rum, Ginger Beer, and Lime Juice. I've replace the ginger beer with Canton Ginger Liqueur and served it in a cocktail glass (though I'm sure it would be great on the rocks as well). I think it captures the essence of a D n' S quite well. I first made this drink for a friend of mine who loves to sail and whose favorite drink is a DnS (regardless of the season). So in his presence I refer to the drink as the DevinStormy, but otherwise it really is just a Goslings Daiquiri with the simple syrup replaced by ginger liqueur. Simple but effective... two words which I think describe most of my favorite drinks.
Dark n' Stormy Daiquiri
2 oz
Goslings
dark rum
1 oz
Lime
Juice
1 oz
Canton
ginger liqueur
Shake vigorously with ice and strain into a cocktail glass.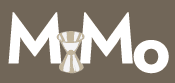 Thanks to
rumdood
for hosting!!